Humbert
Silo-Transports and -Rental
The Humbert GmbH is specialized in transportation of portable Silos of up to 32 cbm capacity Europe-wide.
We can transport silos either filled or unfilled (up to 20 tons of carrying capacity) so that you as our client have enough material available on your site at all times.
Use our silos as
Wrapping Options
Container
Storage room
Silo transportation is a useful alternative to transportation of low-density goods. Regardless of weather conditions and without disturbance through dusty and noisy unloading processes, silo-transports display the best solution for your customer-specific requirements.
Give us a call and describe your specific needs.
Humbert GmbH
Wienbachstraße 20–22
46286 Dorsten-Wulfen
Tel. 02369 9184-0
Fax 02369 9184-99
info@humbert.de
Tel. +49 (0) 2369 9184-0
Rental-Silos with 32 cbm, 29 cbm and 22 cbm
Use our Silo-Rental-Service for your transport and storage projects for building materials and powdery goods.
Our freestanding, waterproofed unicameral system is suitable for granulated bulk materials such as:
Lime
Fertilizer
Substrate
Bentonite
Grit
Sand
Wooden Pellets etc.
If you have space requirements our rental-silos display an excellent solution to be positioned outside. The Filling takes place through silo vehicles with filling hoses.
Our services include:
Transport
Transport of Silos filled with Dangerous Goods / Hazardous Goods (ADR–Transports)
Installation
Moving and Return transport of our rental-silos with our specialized trucks.
Talk to us about:
Rental period length
Delivery date
Freight rates etc.
For short term or long term Rental periods we offer reasonable freight rates.
Give us a call or email us.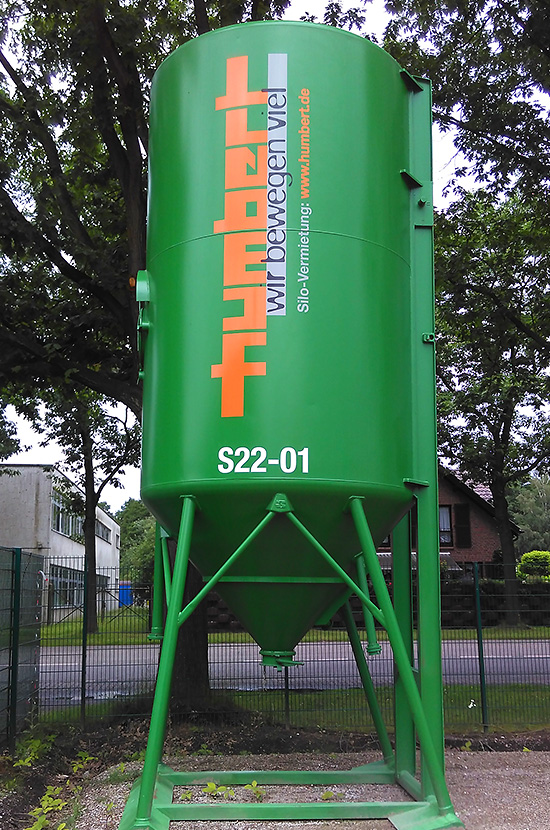 Rental Silo-Solutions with auger conveyors
Humbert Rental Silo Systems with spiral conveyors in different lengths (1,5 m / 3 m / 5 m) allow for comfortable and fast loading of transport vehicles. Granulated bulk goods such as lime, cement, sand, grit, fertilizer and wooden pellets etc. can be stored in our Silos and can therefore be available at all times on your site. Using flexible filling hoses, our rental silos can be filled up "just in time", so that you can save storage capacity and prevent a loss of material through humidity or drift.